Welcome to the November edition of our Luwero Newsletter.
Kijjambu Family
All the family are well.  Peggy, Gabriella and Debbie have started attending nursery 2 days per week: Pricilla is doing well at school.  Deborah continues to need to rest often.
Youth Camp
The August Youth Camp was successful: between 500 and 600 young people attended the 6 day event.  The theme 'Arise and Shine' was developed into a ten-part series of studies about the life of Peter the Apostle.  An encouraging number of young people professed to accept Jesus as their Saviour during the week.
As well as the teaching sessions and workshops, there were other activities including games, competitions, sports, a BBQ, a day when an HIV/Aids testing programme was available (with counselling where necessary), an opportunity for blood to be donated in collaboration with the Ugandan Red Cross.
A community project whereby 150 fruit trees were gifted to people and planted by young people on their land alongside the road between the village of Kiryanyonza and town of Luwero.
School News
Pupils in P7 and S4 sit their end-of-year exams in October and November respectively.  These are the first national exams for two years, and it is hoped that Luwero pupils will do well.  Both of our schools at Luwero have been licensed and registered with the Ugandan education authorities as centres for holding national exams.  The school term ends early in December for the Christmas and New Year holiday break.  The authorities have complimented the team and facilities at Luwero in their reports.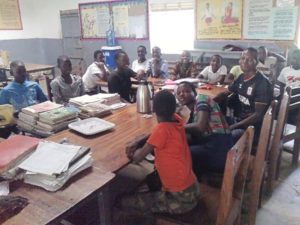 An S4 class doing extra work during their holidays in preparation for the end of year exams.
Building Work
Building projects continue at the project.  The current focus is on the construction of a two-storey arts and crafts centre for the secondary school and the extension of the Boys Dormitory block.
Visitors
Two German girls, Manuela and Lydia, spent, at different times, a few months helping as volunteers at the project in Uganda.  Their help was greatly appreciated and Manuela plans to return to Uganda with a team of young people in December 2023.  Coronavirus restrictions have eased greatly and it is now easier to travel internationally.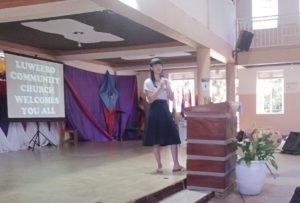 Lydia, from Germany, introducing herself to the church
Christmas Plans
The team at Luwero are planning their normal range of activities over the Christmas and New year holiday period.  In the period 18th to 23rd December Gabriel and his team plan an evangelistic outreach into the community, led by Pastor Stephen Sebyala.  Steven is a Ugandan evangelist, who has led evangelistic outreaches extensively across Africa, particularly South Africa.
Donations
We are indebted to many people, churches and organisations who intermittently or regularly donate to the work at Luwero.  Where possible, we like to acknowledge all donations unless the donor advises us that no acknowledgement is necessary. We are aware, however, that donations are often given anonymously.  To those who chose to do so we respect your anonymity but thank you for your kindness.
Luwero Calendars
Calendars for 2023 are now available and orders can be placed either by email at ([email protected]) or our website (www.luwerocommunityrojects.org).  Wall calendars are priced at £9.00 and desk calendars £5.00 plus an allowance for postage and packaging.
Farewell and Hello
This November edition of our Newsletter will be the last to be edited by our good friend George Wynne.  George has edited our Newsletter for the past four years along with overseeing our website and Facebook page.  We are grateful to George for his input over the past four years, which included the challenging two-year lockdown for coronavirus when little news was available, and we want to express our thanks to him.  We wish him well in the future.
At the same time we say hello to Gordon and Brenda Cameron who will, between them, take over the responsibilities George had for all three aspects of his work.  Gordon and Brenda know Gabriel well and are familiar with the work at Luwero.  Brenda developed our website and Facebook page.  Our next Newsletter in January will be edited by Gordon.
Prayer Points
We ask that you continue praying for:
the Kijjambu family
the school, the pupils and teachers