Welcome to the April version of our Newsletter
I am delighted to present you with the first newsletter in a couple of years not dominated by the context of Covid19.
It has been a busy time at the Projects; schools have re-opened for lessons and then closed for holidays, the annual Pastors and Leaders Conference has recently taken place, we had a visitor from Germany, a book launch and the arrival of Ernie Bayton for a 9 day visit after such a long gap.
The Kijjambu Family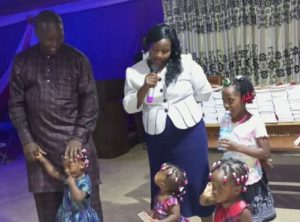 As we have reported previously, the triplets, Gabriella, Debbie and Peggy, have been diagnosed with sickle cell disease.  All are on treatment and responding well except for Peggy who has experienced some difficulties.  All are now at home having had a couple of spells in hospital during the past few weeks.
Priscilla is well and she is pleased to have received her first end-of-term school report.
Gabriel and Deborah continue to work tirelessly leading the project at Luwero.
Visitor
It was another joy to welcome a visitor from abroad for the first time in years.  Manuela, a nurse from Germany, spent several days with us and joined in all aspects of the Projects.
Pastors and Church Leaders' Conference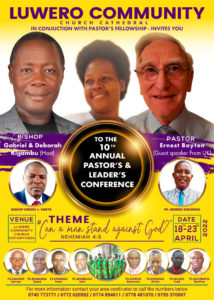 Gabriel, in conjunction with local pastors from the Luwero Pastor's Fellowship, arranged a Pastor and Church Leaders' Conference at short notice. This was the first conference for two years and took place between 18 and 24 April and, as you can see from the photos below, it was well and enthusiastically, attended.  We had over 600 people in attendance and by God's grace everything went well. Bibles were given out to those who didn't have them.  Ernie Bayton was able to travel out to join us to teach a 12-session series, on the book of Nehemiah, throughout the week.  It was a joy to see Ernie among us again preaching and worshipping.
Book Launch – Knowing and Doing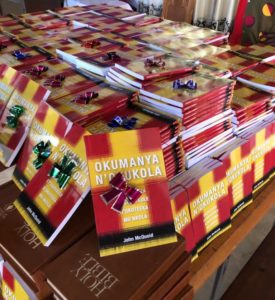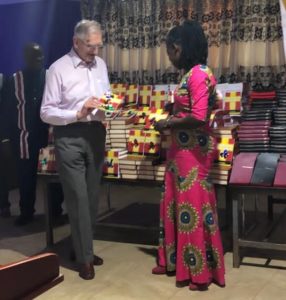 Friends may recall the book, Knowing and Doing, by John McQuoid.   Copies of the book, translated into Luganda by Bush and others, were given out during a launch event at the Pastors and Church Leaders' conference.
School News
The first full school term for two years has just ended. Pupils are currently on holiday for the Easter period. The new school terms begins on 9th May but some S4 pupils will return earlier in preparation for their year-end exams.  Most of the primary school pupils returned after the two year interval caused by coronavirus lockdown restrictions.  A few secondary school pupils failed to return for various reasons.
There is a national teacher shortage across Uganda.  During lockdown many teachers found other employment and have chosen not to return to teaching when the schools reopened. Luwero had a full complement of teachers for the first term and a full staff meeting took place recently to assess teacher needs for next term.
Sponsored Children
Most sponsored children returned to school for the first term. Their end-of-term reports and photographs will be available towards the end of the month and will be sent out to sponsors with any necessary updates.
Special Thanks
A special thank you to Bush for providing the photographs for this newsletter.
Prayer Points
We ask that you continue praying for: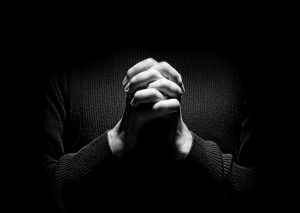 the Kijjambu family, particularly Gabriella, Debbie and Peggy
the school, the pupils and teachers
a good crop this year.