Report from Ernie Bayton
I sincerely thank everyone for their prayerful support for and interest in my most recent visit to Luwero, Uganda. The project continues to be well run and overseen by Gabriel Kijjambu, ably supported by his wife Deborah together with a team of more than 50 paid staff and volunteers who assist with overseeing and administering various aspects of the project. The six pillars of the project – a church, school (primary & secondary), clinic, farm, orphanage and Bible College continue to develop and grow. Gabriel and Deborah send their warmest greetings to everyone who supports their ministry both directly and indirectly.
Conference –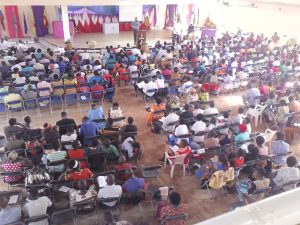 This year's conference was attended by nearly 700 delegates from across Uganda. As in previous years it was a 5-day residential event with a few daily visitors. Plenary teaching sessions were held in the church while other sessions or workshops for pastors, other male leaders, women and youth were held a various locations around the project. The main teaching sessions were undertaken by Stuart Smith, Darnell Starks and I. Stuart focused on God's Covenants, Darnell on the 5 purposes of the church (prayer and worship, ministry, discipleship, evangelism and fellowship). I led a series of studies in the Psalms. Each speaker had 8 or 9 teaching sessions over 3 days. On the final afternoon of the conference it was a privilege to lead the communion service. As in previous years every delegate was supplied with a copy of the outline notes of all the teaching given. The 60 page booklet was available for delegates either English or Luganda, the purpose being that teaching pastors were able to use the outlines to teach others. All sessions were taught in both English and Luganda. Gabriel provided an excellent team of translators for the week. The conference ran smoothly and delegates were provided with three meals every day. Bibles were also given to those not having their own copy of the scriptures.
Bible school –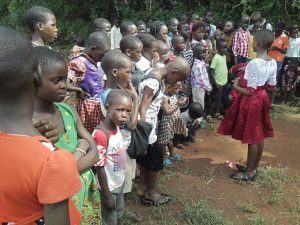 Three new modules were taught at this year's sessions of the Bible College. Each module lasted 1½ days. Over the 4½ days Darnell taught a module on Jesus in the New Testament, Stuart on God's plan of salvation (Romans) and I dealt with a module on Christian Discipleship (Colossians). Approximately 25 students attended every module. Each was selected by their pastor and was fully fluent in written and spoken English thus avoiding the need for translation. Darnell, Stuart and I rotated amongst us between the conference and college throughout the five days.
Children's club – this year's club attracted nearly 700 children. The event was organised and run by a Ugandan team of young people ably assisted by two volunteers from Scotland (Karen & Sandra). The club ran each morning for five days and included a Bible story, quizzes, games, memory verses and singing together with breaks for drinks for the children. The theme for the children's club was 'Jesus is alive today'. On the final day all the children were taken to the pastor and church leader's conference to sing some of the songs they had learnt.
Wedding – A local wedding took place on the Saturday following the conference. The Scottish team were invited to both the wedding and reception. Stuart and I both took part in the wedding service. The event took place with typical African hospitality and sense of celebration.
En-route home I stayed overnight in Kampala with friends Roy and Caitlin. Roy is a Ugandan national married to Caitlin who hails from Bishopbriggs, Glasgow whom I have known for some time. It was good to learn about their ministry and worship with them at their church on Sunday morning. Roy is a skilled musician and has a recording studio. Plans have been discussed with him for Gabriel to make a CD for sale in the UK.
God Willing I hope to return to Uganda in September to speak at our annual youth camp. This year I have chosen the theme from the prayer of Jabez, 'O Lord, enlarge my borders' (1 Chron 4:10) and plan to develop a series on the life of Joshua.